Anyone can decorate their home with their favourite photos and artwork, cushions, curtains, and accessories. But if you would like your home to look like it was recently decorated by an interior designer, you have to give it more thought than just adding plenty of decorative items to each room.
Are you in need of some inspiration to truly make your decor stand out? Follow these seven home decor styling tips:
Tip #1: Consider adapting your home decor to each season
Do you often get tired of your home decor? Maybe you should consider changing your wholesale home décor at the start of each season, so you always have something new and fresh to enjoy looking at.
Of course, that doesn't mean you have to throw all your decorative items from the last season away, and decorate your entire home with new objects. A few simple changes can make a big difference, and can help set the mood for the next holiday.
Here are a few examples:
Spring home decor
Decorate with fresh flowers, houseplants, and pastel tones. Replace cozy throws and heavy blankets with lighter ones.
Summer home decor
Decorate with light and happy colours. You could display items that create a beachy, tropical, or nautical theme.
Fall home decor
It's time to bring back cozy throws, and to integrate red, orange or brown into your decor. You could create a table centerpiece with pumpkins, colourful leaves, and candles.
Winter home decor
Decorating your home for winter is not just about Christmas decorations. Create a cozy decor with warm colours, or decorate with white, silver and blue if you love the cold season.
As you add seasonal decorative items in your decor, consider arranging them in groups of 3 to create interesting vignettes. For example, you could place one tall vase on a table, next to a medium sized candle and a small one.
Tip #2: Don't decorate a dirty and messy home
If you want to upgrade your decor, and especially if you are planning on painting your walls, you should start by cleaning your home from top to bottom.
This will be like working on a blank canvas, and a lot more inspiring than trying to figure out how to position your decorative items in rooms that are dusty and cluttered. If you clean and organize your home first, your decor will look even better.
Tip #3: Invest in some cushion covers instead of buying new cushions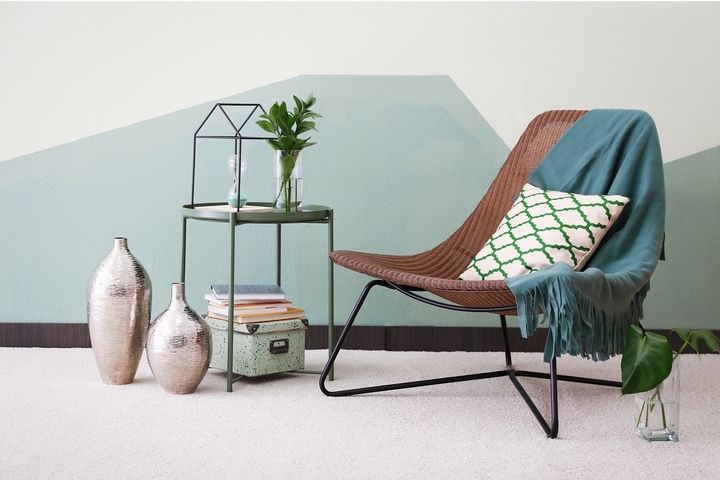 Cushions instantly make a couch or a bed look more comfortable, and they are a versatile decor accessory. Cushions of different sizes, colours, patterns and textures combined together can give a very stylish result.
But instead of buying new cushions every time you want to change your decor, consider investing in some cushion covers. They are affordable, and you won't have to find a way to get rid of the cushions you don't want to see anymore.
If you know how to sew, you could even create your own cushion covers.
Tip #4: Don't add too many patterns in the same room
Patterns, whether they are on wallpaper, on curtains or on cushions, can instantly transform the look of a room. But you should never add too many patterns in the same room, as the result would look overwhelming and confusing.
If you want to decorate with two patterns, make sure they complement each other well, and don't overdo it. For example, a geometrical pattern could work well with a striped pattern, but only if they share a similar colour.
Tip #5: Create a focal point in your living room
If you want to give some unity to your decor, one simple tactic is to create a focal point. This works particularly well in a living room.
For example, the focal point of your living room could be your television, or a beautiful fireplace. You would then arrange the furniture and the decorative items of the room in a way that brings more attention to the focal point.
Tip #6: Hang your wall decor at the right height
A painting, an art print or a mirror can bring life to an empty wall. But to make the most of your wall decor, you should hang it at the right height. But what is the right height?
Of course, it all depends on the size of the wall art you want to display, on the height of your wall, and on your own height. Ideally, you should hang your item at eye level, so you can look at it without having to crane your neck up or down.
Keep in mind that average eye level is between 57 and 63 inches.
Tip #7: Add a pleasant fragrance that complements your decor
The finishing touch to your new home decor should be a pleasant fragrance. And if you find a fragrance that complements your decor, it will help set a wonderful ambiance in your home.
Think about potpourri, scented candles, incense, and essential oil diffusers, and find a way to integrate one of them in your decor.