A living room is one of the most popular rooms in any home. It's where we sit, lounge, gather, and converse. It's the ultimate place to socialize. Unfortunately, in some homes, the living room isn't very large, and the limits of a room like this can be frustrating when you want to personalize the space.
However, a living room addition is a great way to expand square footage while improving comfort and aesthetics. These creative living room addition ideas allow you to do whatever you want with the area.
Let's check out eleven best living room addition ideas for your home:
Living Room Addition Idea #1: Build a Sunroom
A classic home addition is a sunroom. A sunroom is a living space accessible from indoors, surrounded by glass, and typically with a clear view of the outdoors. Work with a home addition contractor to ensure the sunroom is properly insulated for the four seasons.
Once completed, these sunrooms add a lot of aesthetic value. They can even be used as a gardening area if you have some houseplants in need of the sun.
Living Room Addition Idea #2: Add a Fireplace
A fireplace is a feature in any home. For a living room addition, a fireplace adds warmth and welcome that no other feature can add quite like this. If you routinely use your living room as a family room, a fireplace, especially through winter, can make the space feel particularly relaxing and keep everyone together as you gather for company.
Living Room Addition Idea #3: Build a Standard Addition
You don't need a definitive plan for a living room addition. It can simply be to add square footage. A standard addition would be a build-out, adding ground-level square footage. This provides you with more area in a living room to space out certain elements or expand on an existing theme, such as a home entertainment area.
Living Room Addition Idea #4: Add a Library
A living room that is less 'home theatre' and more about reading or conversation may benefit from floor-to-ceiling bookshelves displaying your favourite literature. A living room addition is often used in this way, i.e. to add space for hobbies, interests, and entertainment. Your shelving can be converted to showcase décor, art, awards and accomplishments, or anything you like.
Living Room Addition Idea #5: Expand Your Home Theater
Create the ultimate home theatre or home entertainment center. A living room addition can be a complete redesign. Buy a bigger screen or go with a projector screen. Have in-wall speakers or surround sound. Work in your accessories, i.e. gaming consoles, Android boxes, media players, PVR, etc.
In-wall units with open racks will maximize your space and give you many areas to set home theatre accessories and other media-friendly materials.
Living Room Addition Idea #6: Step-Down Family Room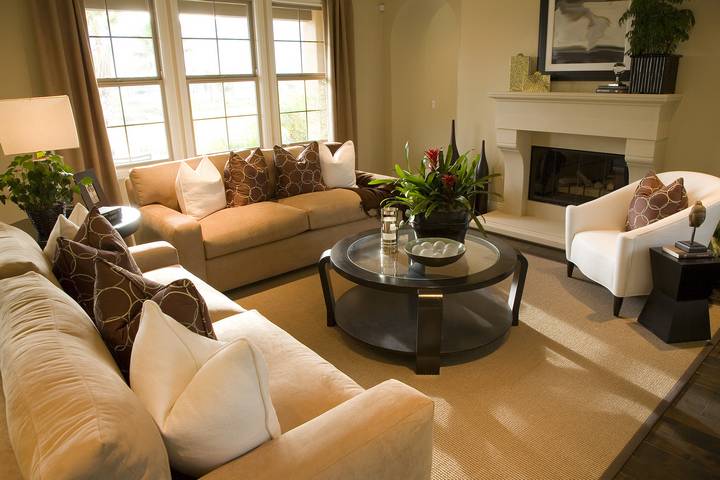 With a living room addition, you can choose to build a room onto a room. Have an upper level and then what's called a step-down family room. A step-down room generally has a warmer, more intimate feel. If your living room is multi-use or has multiple sections, differentiating between them with a step-down can be smart.
Living Room Addition Idea #7: Beverage Bar Area
If you are in an open-concept space where your living room is somewhat connected to a dining area, a possible way to use your living room addition is to build a beverage bar. A small bar countertop is a nice feature if you're regularly entertaining company. Music lovers, on occasion, also combine this beverage bar area with a small stage set up where they can play music with friends.
Living Room Addition Idea #8: Create a Unique Shape
Another approach to crafting a living room addition is to make it into a unique shape. Think of a multi-sided living room, such as a hexagon or octagon, and how you might use it. If you have the yard space to work into and a plan on what you'd make from this new square footage, it's an interesting way to add to your home.
Living Room Addition Idea #9: Floor-to-Ceiling Windows
A lot of older homes have dated living room designs. Floor-to-ceiling windows, similar to but unlike a sunroom, bring in lots of natural light and can add a sense of minimalism to your living room. Despite the positives, the drawback is glare on any TV screen or monitor in the room. For this reason, you may want to add some curtains or drapes to counter the problem of glare.
Living Room Addition Idea #10: Opt for High or Vaulted Ceilings
A new addition is an opportunity to add high or vaulted ceilings. If you've always wanted high ceilings, a living room addition can certainly allow for it in a lot of cases. You aren't going to run into the same issues as you would without it being an addition, i.e. an attic inspection, roof framing modifications, and plumbing or ductwork needing adjustment. With a room addition, it's simple.
Living Room Addition Idea #11: Build Up to a Second Storey
A living room rarely does this, but there aren't any rules against it. In some homes, you might want to double up on your living room by building up instead of building out. This will create a dual dynamic where the bottom space could be dedicated to one theme and the top area set aside for another.